here
Sign up and get 2 free weeks today!
*New Students Only
Welcome to Championship Martial Arts
Our system of teaching martial arts is the state of the art teaching method for modern times. Each class is built around dynamic energy and an accelerated training style that is Fun, Exciting, Empowering, and Educational for those as young as 4 years old to 80+ years young.
Our mission is to encourage and motivate our students and to provide the skills needed to help them succeed in life.
"I'm not stopping 'til I reach my TENTH-degree black belt. CMA Rocks!"

"Our two children have so enjoyed going to Karate every day. Not only do they teach them Karate and how to use it in a positive manner, they also teach them discipline, manners, self esteem as well as self defense. Mr. Jim and his staff are so friendly and knowledgeable! We are extremely happy with the choice we made to put them at CMA!"

"It's AWESOME!! The instructors make learning fun…even pushups!"

"Karate has built my daughters' confidence by increasing their balance, flexibility, and strength. The instructors encourage the students to improve their forms and strength while they are having fun learning. They teach the students how to be considerate of the entire class and to use their new skills properly. CMA emphasizes focus and respect, not just at the studio, but also at home, at school, and in all interactions."

"I've seen my son progress from a 6-year-old white belt to a 10-year-old working toward his second-degree black belt. The curriculum and values taught at Griffin CMA have helped to mold him into the champion he is today. Courtesy, respect, modesty, self-discipline, confidence, physical agility and perseverance are some of the many qualities my son has gained through training at CMA. The instructors and staff are devoted to their students' excellence … they take personal interest in EVERY student and you can't help but feel like CMA Griffin is your extended family. We love it here! "

"In addition to the flexible and convenient class schedule, CMA is also a great choice for non-traditional after school care. The kids are never idle! They are involved in martial arts, tumbling, cheer, and learning discipline; all while having fun. Even after being in classes and practices for hours, they beg to stay longer. They've had birthday parties there 3 years in a row! The instructors are great with kids of all ages. The most often heard phrase from CMA kids to their ready-to-go parents: 'Please, just five more minutes?'"

"I credit the self-defense skills I learned at CMA with saving my life on the job."

"My son attends CMA in Griffin and he loves it! The instructors and staff are great and they make sure your child achieves their best! To be honest I thought it was a little pricey at first, but it is well worth it and you can bring your child up to six times a week. Bottom line not only is your child having fun, getting exercising and learning, they are also gaining life skills that are important now and for the future. Your child will also learn the meaning of earning something vs. be given something, for example, he/she will start off as a white belt and they will have to earn so many stripes so that they can earn their new belt. CMA also has extra rewards for having a good report card or having perfect attendance, etc. which is awesome. I definitely recommend CMA to any parent or adult interested in classes!"

"Early on in our time at CMA we began to realize that our children were not only being trained in martial arts but also being shaped in character. Mr Kevin and Mr Hart have partnered with parents in the enormous task of raising confident, respectful and disciplined young men and women. We are glad we discovered Griffin CMA."
>> Read More Testimonials
>> Physical & Mental Benefits of Martial Arts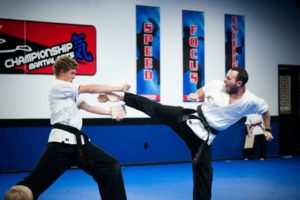 Championship Martial Arts has a number of different programs available.
Each program is developed from the top curriculum in the country and led by an incredible staff of certified, professional instructors. Each instructor is ready to help you achieve your full potential in a friendly, courteous, and positive manner. Our instructors receive the latest training in teaching skills and martial arts techniques.
Please click on any of the links to the right to get more information about each program.