Instructors
At our schools you'll find a staff of certified, professional instructors ready to help you achieve your full potential in a friendly, courteous, and positive manner. Our instructors receive the latest training in teaching skills and self-defense techniques.  They have spent many years devoted to training in the martial arts and other defensive tactics and have attained a certain level of expertise to qualify them as teachers and also mentors.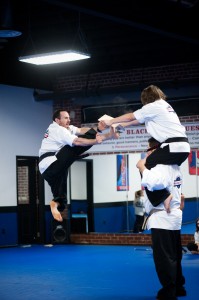 Kevin Brown (Chief Instructor)
Kevin has been involved in martial arts since 1991. He started taking karate during kindergarten in an after school program. When he reached the rank of blue belt, he began more intensive training at Martial Arts America in Peachtree City, GA under Mark Dumas.
While training for his black belt, Kevin competed in several inter-school tournaments and placed first in three of them. He earned his first degree black belt in November 2000 and is currently a fourth degree black belt. Kevin also holds a first degree black belt in Krav Maga.
Kevin began teaching immediately after earning his first degree black belt. He taught at Martial Arts America in both Peachtree City and Fayetteville, GA. In 2003, Kevin helped to open the Newnan School where he taught for over 4 years until opening his own school in Griffin, GA.
Kevin is certified by the Board of Regents of the Black Belt Schools of America as a Black Belt Schools International Instructor. His instructing experience includes American Style Karate, Krav Maga, Mixed Martial Arts, Women's Self-Defense, Haganah, weapons defense, and Kardio Kick Boxing. Kevin is trained and experienced in teaching both children and adults.
Jim Brown (Program Director)
As Program Director, Jim is in charge of much of the business operation of Championship Martial Arts ("CMA").  He has an undergraduate business degree in finance, and a Masters of Business Administration (MBA) from VA Tech.
With over 30 years in the business world, many as an independent businessman, Jim has the experience to run a dependable and safe operation.  He also has significant leadership experience having been vice president of two large financial institutions.
Integrity and values are of utmost importance to Jim.  He served as an Elder in his Presbyterian church and remains active in that church.  He believes we should serve our community, and will offer the opportunity for our students to become involved in various service projects.
He has trained in American Style Karate and is currently a student of Krav Maga, the premier self-defense program developed by the Israelis for their special forces.  He has attained Practitioner Level 5 in Krav Maga and is on track to test for his Black Belt later in 2016.  This demonstrates that no one is ever too old to be involved in martial arts.  As both the Program Director and a student, Jim brings a unique perspective to CMA.  From a business point, Jim is responsible for ensuring a vibrant, healthy school, capable of sustaining a long-term, positive influence in your student's life.  As a martial arts student, Jim is able to empathize with the other students, and develop programs with that viewpoint in mind.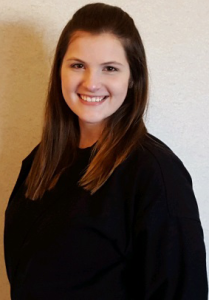 Abby Grubbs (Instructor)
Abby is 22 years old and has been working at Championship Martial Arts as an instructor in the After School Program for 2 years. She has her Associate of Arts in Psychology and is currently working toward her Bachelors from UGA, which she is expected to earn in May of 2017. Abby is currently training in Krav Maga and Tang Soo Do (a Korean style of martial arts), as well.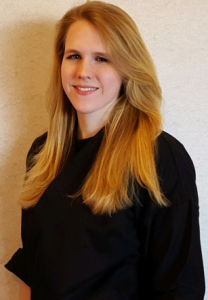 Ashley Smith (Instructor)
Ashley has been involved in martial arts since around the age of ten years old. She originally trained in the traditional style of Shotokan, developed by Gichin Funakoshi. She is currently an instructor in our After School Program, as well as a certified tutor for Gordon State College. She will earn her Bachelors of Science degree in Mathematics in December of 2016. Ashley is pursuing training in Krav Maga as well.