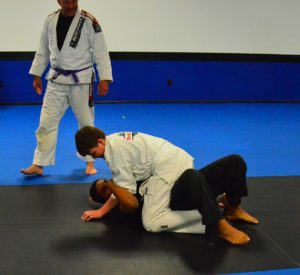 Brazilian Jiu-Jitsu ("BJJ") is a martial art that focuses on grappling or ground fighting.  It is the closest thing in martial arts to wrestling. BJJ promotes the concept that a smaller, weaker person can successfully defend against a bigger, stronger, heavier assailant by using proper technique and leverage if the fight ends up on the ground. This is important because many, if not most, attacks end up there.
2017 will see opportunities for students to participate in tournaments and matches at other studios across the State of Georgia and to host students from other studios as well.
The head BJJ instructor is a certified Brazilian Jiu Jitsu Instructor. In addition, the instructor is also a Certified Peace Officer with the State of Georgia and is a full time instructor at the Georgia Public Safety Training Center in Forsyth, GA.
Adult co-ed BJJ classes are offered Wednesday evenings from 6:15pm – 7:15pm, Saturday mornings from 10:30am – 11:30am, and Sunday evenings from 5:00pm – 6:00pm.
Kid's BJJ classes are offered Tuesday evenings from 6:15pm – 7:00pm, Thursday evenings from 5:15pm – 6:00pm, and Saturday mornings from 9:15am – 10:15am.